THE ASOCIMAI OFFICERS:
Dominador Ong, M.D.
President
Maida Antigua, M.D.
Vice-President
Dolores Lao, M.D.
Treasurer
Epifania Aranas, M.D.
Secretary
Clem S. Estrera, Jr., M.D.
P. R. O.
Anita Avila, M.D.
Auditor
Board Members:
Horace Cabasares, M.D.
Perry, GA
Ramiro A. Cadag, M.D.
Kings Point, NY
Mike Espiritu, M.D.
Okeechobee, FL
Elie Gonzales, M.D.
Oswego, NY
Cecilio Delgra, M.D.
Charleston, WV
Rosario B. Gonzaga, M.D.
Cumberland, MD
Teresita Varona, M.D.
Oakbrook, IL
CME Chairperson:
Rise Faith E. Dajao, M.D.
Portsmouth, VA
BRAIN WAVES STAFF:
Editorial Board:
Maida Antigua, M.D.
Boston, MA
Horace Cabasares, M.D.
Perry, Georgia
Eli Estabaya, M.D.
Yuma, Arizona
Editor and Technical Adviser:
Clem S. Estrera, Jr., M.D.
Petersburg, VA
Staff Correspondents:
Roland Pasignajen, M.D.
New Jersey
Henry L. Yu, M.D.
Cebu City, Philippines
Ernesto Yu, M.D.
Buffalo, New York
Wilmo C. Orejola, M.D.
Pompton Plains, N J
Send news, articles, pictures, announcement, obituary, etc., to:clems3ra@rcn.com
Editor's Column

"Tell them how we love all that was beautiful." - Anonymous American Indian
BEAUTY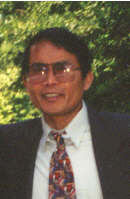 Women and Beauty
Victor Hugo, one of those novelists who were considered as romanticists, the author of Les Miserables, declared that, "The beautiful is as useful as the useful. More so, perhaps." Beauty can do remarkable things for people. It helps women in particular get away from the many hardships in life. It is said that thirty is the perfect moment in a woman's life when she retains the beauty of youth but tempers it with the knowledge of experience. Suffice it to say, many women become obsessed with their youth and beauty like in the movie, Death Becomes Her, so that when the process of aging starts accelerating its undesirable effects, they seem to lose their self-esteem and self-respect. They would readily choose to become the gold mine of plastic surgeons doing face-lift, liposuction and other youth or beauty-enhancing procedures.
Yet many of those who had undergone few to several enhancing procedures to maintain youthful looks don't have much success in defying the ravages of time. They continue to age like everyone else. Looking at them after a certain number of years, you can still see vague traces of beauty left in them, like clues to what once was, but those procedures had overlaid their past with a harsh brush. Sophie Tucker once said, "From birth to age eighteen, a girl needs good parents. From eighteen to thirty-five, she needs good looks. From thirty-five to fifty-five, she needs good personality. From fifty-five on, she needs good cash."
But those women of beauty who have accepted the normal biological process of life with the graciousness and gracefulness of a ballerina or a ballet dancer, seem to grow more beautiful with time. They continue to move with fluidity, pose with confidence, and their faces reflect the love of life. Their mood is sweet, personality pleasant, and good cash or no cash, the process of aging has no effect in their self-esteem and self-respect. Their smile even becomes more radiant like the rising sun itself, glowing and glorious. Age doesn't seem to dull their glory.Their charm still magnetizes, and the intensity of their eyes could still melt your cold, cold heart.
Beauty, the Healer
There is evidence although may be anecdotal that a passion for beauty may have played a dramatic part in the recovery of many persons who are actually ill. In one of the magazines many years ago was a story of a man who, was about to enter the ministry when he discovered he had tuberculosis. This was at a time when not many survived the dreaded disease and the main treatment was finding an occupation that kept him out of doors. He moved to an estate that he had inherited and sadly endeavored to readjust his life plans. He planted a couple of rosebushes and got such a spiritual lift from the beauty of their blossoms that he decided to turn the estate into one big garden. More roses were planted and hundreds of azaleas and camellias were imported for the purpose. Over the years he developed one of the most beautiful gardens in the world, and while he was thus engaged he earned back his health so completely that he was able to resume his original plans for the ministry. "Mishaps," wrote James Russell Lowell, "are like knives that either serve us or cut us, as we grasp them by the blade or the handle."